Whatever Floats Your Boat – Sonihull ECO Has Got You Covered
The Sonihull ECO range of ultrasonic anti-fouling systems has been developed for the specific requirements of the leisure boating market.
Box Ready or Bespoke Solutions
Systems can be tailored to meet the exact requirements of all kinds leisure vessel. Whatever you need to protect from marine bio-fouling...
...the hull of a 50-foot Carbon/Kevlar sailing boat; the IPS drives on your GRP/FRP motorboat; the raw water cooling-system in an aluminium superyacht... Sonihull ECO has got you covered.
Sonihull ECO Protects – Inside & Out
Inside: Waterjets, Pipework, Cooling Systems, Fuel & Water Tanks
Outside: Hulls, Propellers, Stern Drives, IPS Drives, Keel Coolers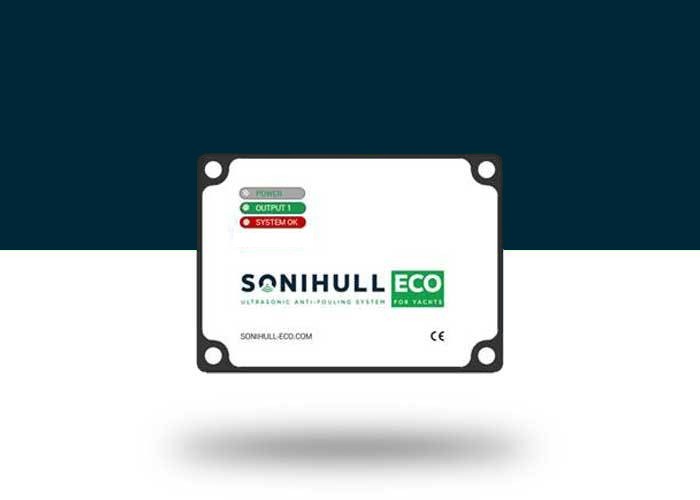 It may be the smallest system in the range, but the Sonihull ECO 1 is packed with the same features and ultrasonic technology as the rest of the fleet. This model comes with one transducer, ideal for protecting small hulls (below 30 feet) or one item, like a stern drive or an IPS unit.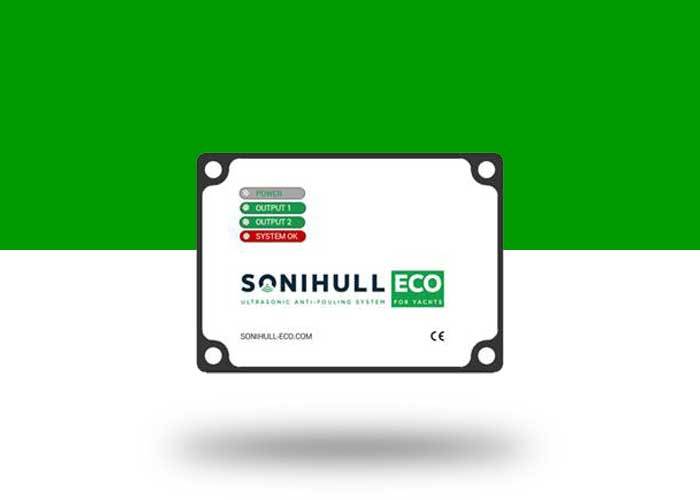 Sonihull ECO 2 comes with two transducers, ideal for hull protection in boats between 30 and 50 feet long, or for dedicated bio-fouling protection for a pair of sterndrives or a pair of  IPS units.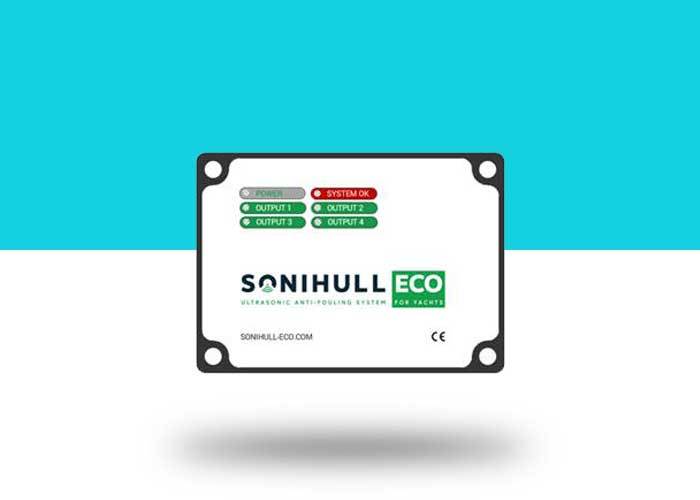 As the name suggests, the Sonihull ECO 4 has four ultrasonic transducer outputs, making it an ideal choice for larger vessels where the hull and/or ancillary equipment needs protection from marine bio-fouling.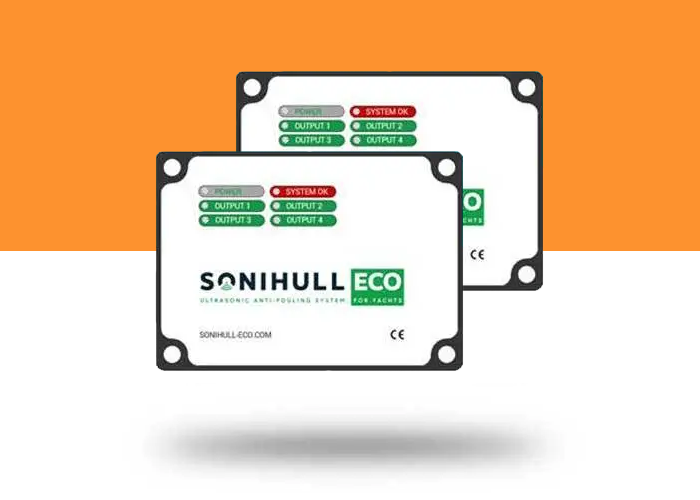 For large yachts or superyachts with multiple systems to protect you can choose to combine Sonihull ECO 1, ECO 2 and ECO 4 units in different locations. Or contact us for details of our range for commercial marine applications.
What's the right Sonihull System for you?
| | | | | |
| --- | --- | --- | --- | --- |
| Sailing Yachts | | | | |
| Motor Boats | | | | |
| Multihulls | | | | |
| | Up to 30ft. (9 metres) | Up to 50ft. (15 metres) | 50-70ft. (15-21 metres) | 60-100ft. (18-30 metres) |
Sonihull ECO Works For All Kinds Of Materials
Sonihull ECO will work on any solid material that supports the transmission of an ultrasonic signal.
Steel, Aluminium, GRP, FRP, Carbon, Kevlar, even solid plastics and ABS materials can be protected from marine bio-fouling.
Wooden vessels cannot be protected by Sonihull ECO systems. The varying densities within the wood grain, act to dampen the ultrasonic frequencies generated by the transducers, which in turn prevents the anti-fouling effect on the wet surface.
ENQUIRE ABOUT OUR SYSTEMS
Enquire now and receive our brochures today. If you have any questions, we are happy to answer them via phone or email.
"*" indicates required fields
Sonihull ECO Can Adapt To Any Anti-fouling Challenge
With a comprehensive range of surface adaptors, Sonihull ECO ultrasonic antifouling systems can be used to protect all kinds of areas around your boat. The system comes with ABS mounting rings as standard, which can be chemically bonded onto most flat surfaces. For other applications, special mounting adaptors can be purchased separately.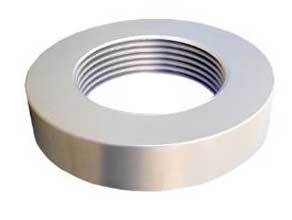 These marine-grade weldable aluminium mounting rings are ideal for larger aluminium hulls, jet drives, sea chests or other aluminium structures. The rings can be fitted as part of the standard build where Sonihull systems are offered as a buyer option.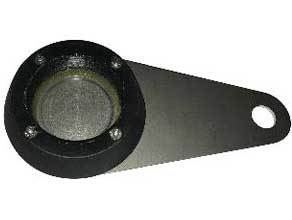 Stern Drive & IPS Adaptor
This bolt-on device allows ultrasonic transmission into surfaces that are hard to reach, like stern drives. Results show an impressive average of 80% reduction in fouling on sterndrives using Sonihull via a stern drive adaptor.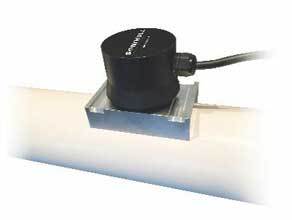 With our full range of standard-diameter pipe adaptors, Sonihull can be attached to almost any kind of pipework. Protecting box coolers, valves, inlets, sea chests or other raw water handling equipment form being clogged by unwanted marine growth.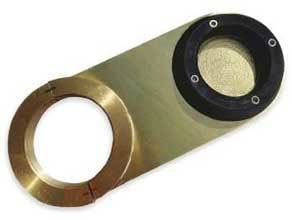 These patented adaptors create a strong physical contact between a Sonihull ECO transducer and the keel cooler's pipe fittings inside the hull. There's no need for any plumbing or cooling system drainage. A split collar (smooth or threaded) clamps snugly around the inlet and outlet pipes.
In typical leisure boat applications, each Sonihull ECO ultrasound transducer will cover a circular wetted area of around 6m in diameter. The extent of coverage can vary between applications and depends on a number of factors, including the type of material being protected, the uniformity of the material and its structure. The number of joins, welds and the presence of other items that can hamper the propagation of the ultrasonic waves, will also influence performance. Sonihull ECO systems are modular and different systems can be combined to meet almost any vessel's requirements.
Satisfied Sonihull Clients
"Sonihull system has outperformed my best expectations"
During the last 8 months, Sonihull system has outperformed my best expectations, on weekly inspections we have seen no signs of growth nor have we had to clean the strainers only for light debris, we have inspected the manifold and coolers with an endoscope and again no signs of growth which in turn has benefited all auxiliary sea water systems…
"..I have found the results to be more than acceptable"
I have used Sonihull on my last two Southerly yachts and I have found the results to be more than acceptable. I use Sonihull in combination with Cucoat and applied together there is very little growth to remove. After having had my antifoul paint removed on a section of my hull, by another yacht, I found that bare gelcoat did…
"The yacht's performance is noticeably and consistently improved"
Before Sonihull was installed the bottom would have to be physically cleaned by divers twice in a season. And the yacht's performance is noticeably and consistently improved due to having a clean hull.